"New year, new you." That phrase usually applies to your own personal New Year's resolutions and dreams of having a transformative year. Around here, we also like to apply this philosophy to the brands with whom we work! A fresh calendar year (and budget!) means it's time to head back to the drawing board and see where you can make some tweaks or all-new additions.
A great place to start your "marketing renovations" is your social media. Don't have social media? This is definitely the year to hop on that train (And we can help you!). If you've been social for a while but haven't switched up your game in the past few months, this is the blog for you! Here are the top 5 tips for ramping up your social media in 2018, from our resident social media guru, Katherine Schwartz.
Tip #1: Add Video and GIFs to Your Posts
You'd be incredibly hard pressed to find someone without a smartphone these days, which means just about all of us have a mini photography studio right in our pockets. High-production videos are still great for more traditional advertising or website content, but for social media, it's all about "in the moment" authenticity. Launching a new product or service? Shoot some videos of a team member showing it off! Big event? Consider doing a livestream on Facebook or Instagram. Social media platforms are highly optimizing video content posted by their users, so if you've been on the fence with video, jump in!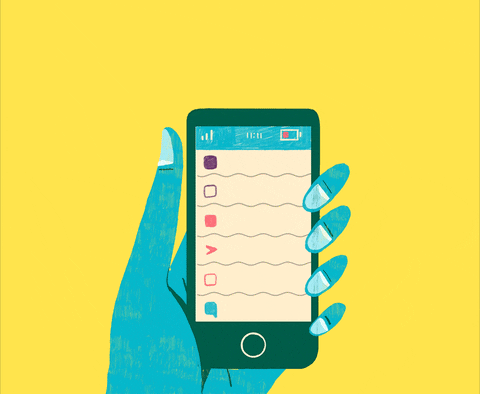 GIFs are another great way to make your content stand out. Use them smartly (don't flood your customer's feed with quirky GIF after quirky GIF) and watch them work a double-shift as engaging content for your customers, as well as a potential viral post opportunity if your GIF is extra clever and well-timed. One of our clients, Cheeseburger Bobby's, has really let us embrace GIFs and videos in their social media strategy and has seen increasingly positive response from their followers. We introduced live video to broadcast Red Hare's Gem City Classic Launch and they received 4.4 K views that day!
Tip #2: Focus on Your Mobile Presence
Going back to the abundance of smartphones and connectivity to content on the go, you MUST make sure your brand's mobile platform and content is just as effective as your desktop or traditional online presence. Social media audiences are only getting younger, which means the percentage of visitors coming to you through a mobile browser is quickly becoming the majority.
Putting a "mobile focus" on your social media strategy means employing the use of eye-catching graphics and video elements and keeping the written content concise. It's all about showing up on that smaller screen. We encourage our clients to take a very visually-focused approach to their social media, focusing a lot of their efforts into Instagram.
Tip #3: Take Advantage of User-Generated Content
Remember in our last blog when we talked about building up your army of "brand ambassadors?" Here's how to let them do their thing! Testimonials and "outside" posts from customers praising your brand and products are an invaluable and organic way to really add klout to your online presence. Encourage your customers to share images you can repost on your social media platforms (This is an especially effective strategy for consumer based companies!). Any positive user content that you can share from your official brand social media platforms will be a great testimonial for your company. Our client, Square 1 Art, has really done a great job of encouraging and leveraging their user-generated content by re-posting pictures of kids with their finished keepsakes created by Square 1 Art.
Tip #4: Use Instagram Stories and Other Short-Lived Content
Snapchat was a game-changer when it introduced the world to the power of short-lived content. It jumped into the internet with seconds-long videos that only existed for 24 hours. Add in the goofy filters and it quickly became a hit! Facebook and Instagram have now joined in and feature their own video clip options for their users. How can videos that are so short actually help your brand? This content is perfect for "behind the scenes looks," new product features and announcements, and a way to broadcast your brand's voice in a more casual and approachable manner. Short videos are also a great way to push out content and giveaways to your audience. Believe it or not, there really is something thrilling about only being able to see the content for a short amount of time!
Cheeseburger Bobby's uses short-lived content to share "behind the scenes" looks at their burgers being made, photoshoots of their products, and much more. These videos help draw followers in and get the inside scoop on their brand and products. We also use this type of content frequently on our personal social media, so make sure you're following Marbury Creative Group.
Tip #5: Have Fun!
Social media is meant to be enjoyed! It's often a break from the grind of the day, so you want your followers to get a dose of happiness when they land on your content. And if you're not enjoying what you're posting, neither will your audience. Don't take yourself too seriously! Having a strategy in place is necessary, but when it comes to the actual posting of your content, leave room for flexibility. Creating and posting timely content will help keep you relevant, so keep an eye out for the latest trending topics and see how you can seamlessly work something into your brand's posting that day.
Last year, Cheeseburger Bobby's (can you tell we get to have fun with them?!) took advantage of the hype of Taylor Swift's single, "Look What You Made Me Do," dropping and we quickly posted a meme featuring one of their burgers. When the Georgia Dome was demolished and the MARTA bus blocking the footage went viral, we jumped on it quickly and created a Cheeseburger Bobby's hilarious meme to compliment the ones circulating.
We hope these tips have gotten the wheels turning and sparked some excitement in your social media strategy! As always, we would love to help you become social media marketing rockstars and build a brand voice your followers can really get behind. Reach out to us today at group@marburycreativegroup.com and let's give your social media a 2018 makeover!